Hello fellow bloggers.. Just popping in to share some layouts (finally!) and some more photos... Yes I'm sorry more photos.... LOL....
here goes.....
These layout I done... It seem like ages ago.. But too busy playing around with my camera to share...
Well on Saturday night Mark and I went out... YES we did.. LOL Friends of ours took us to see Rodney Rude!!... And to be honest I was a little disappointed in his show.. Pretty much everything we have all heard a thousand times, with a few new gags thrown in. But it was still very funny and also very RUDE!!!.. I felt a little naughty being there.... LOL just joking... We all need a little rude sometimes!!!!
Sunday fathers day.... Mark and Keenan both slept in until after 9, while Jorja and I got up about 6am.. ( All Jorja's fault..LOL..) When Keenan finally woke up he run in with big fathers day hugs for dad and a arm full of gifts.. Including items Keenan brought from the fathers day stall at school. A man on a motorbike statue, a tiger sticker for his car, two yes TWO, soap bars in the shape of beer bottles... As Keenan said "one for the shower and one to wash your hand with after going to the toilet" a Carlton cold key ring and the best pressie of all.. A nut on a piece of wood with " I'm a west coast eagles nut" on it... LOL... We are a TIGER family and when asked by dad why? Keenan said.. " Because Dad, West coast eagles are playing really good..." How can you disagree with that.. LOL...
Couple of raw, unedited pics from Sunday morning....
On Monday Jorja and I went over to my brothers house to catch up with dad for fathers day and Kellie and my just beautiful little nephew and niece Blake and Jordyn. God Blake is a funny little man.. I just love him to death. He reminds me of Keenan so much in so many different ways, but he also reminds me of my brother too. He is so full of energy its not funny!!. My little Jordyn.. What a little budda..LOL.. I just love her chubba cheeks.. And She is totally fascinated with Jorja!!!
So of course I took some photos...LOL......
Jorja with my Dad....
Sweet Jordyn......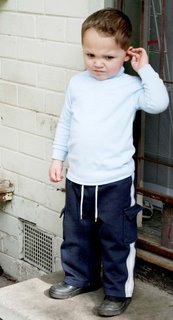 What a spunk!!!!.. Check out his little face.. So cute. My buddy Blake..
Blake and I where playing chasey around the big lemon tree when I snapped this pic.. I love it.. My fave of the day!!!!
Well that's it for me... Sorry about the long post and if u made it it far thank you....
Please don't forget to leave me a comment... Yesterday I had over 50 hits to my blog but only 1 comment... So drop me a line would love to say hello!!!!
Please spare a thought today for Mel miller and her family asthey lay Princess Rani to rest
you can please light Pink candle for Princess Rani today at 3pm, some people are also releasing pink balloons with Rani's name on them.....
My love to Mel and her Family.......
Love C...xxx